Blood Borne Pathogen Kit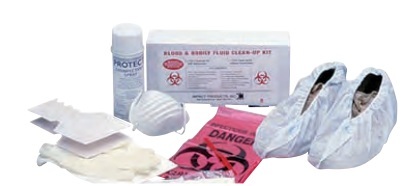 Click image(s) to enlarge.
Product ID:BLOOD BORNE KIT 880544
Blood Borne Pathogen Kit
Recommended for safe cleaninga nd sanitary removal of spilled body fluids and blood. Helps prevent exposure to hepatitis B, HIV-1,and AIDS virus.
Contains: Latex Gloves, Face Mask, Face Shield, Shoe Covers, Apron, Absorbent Pack, Towelettes, Scrapers, Red Biohazard Disposal Bag, 1 Can of Disinfectant Spray to Kill Germs.