Condo Bellman Cart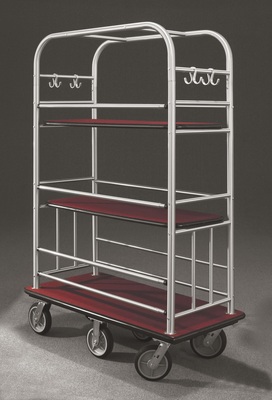 Click image(s) to enlarge.
Product ID:CONDO CARTS
Condo Bellman Cart
This highly functional and attractive cart designs to meet the needs of the hospitality industry. The Condo Cart has been specially designed to provide upscale transport of items of almost any size or shape.
Maximum capacity cart with tarnish proof brass finish or rust proof satin aluminum finish. Heavy duty steel chassis. Removable carpeted shelves and removable containment rails. Four and six wheel models available. All weather design.
More Photos