GLOBE PORTION CONTROL SCALE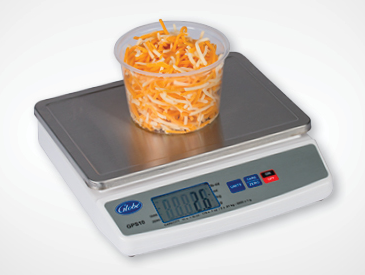 Click image(s) to enlarge.
Product ID:Portion Control Scale
GLOBE PORTION CONTROL SCALE
The scale weighs in pounds & ounces, ounces, kilograms and grams, increasing its versatility. Weighing capacity is 11 x .1 lb-oz, .1 x 176 ozs, .01 x 5 kgs, 1 x 5000 g. Scale operates on AC power or batteries which allows the scale to be used at any location. Additional features include auto shut off, low-battery indicator on display screen, removable 9" x 7" stainless steel platter, and push-button tare.
Specifications
Weighs in pounds & ounces, ounces, grams or kilograms

Capacity is 11 x .1 lb-oz, .1 x 176 ozs, .01 x 5 kgs, 5 x 5000 g.

Push button tare

LCD 1" character display

Battery or AC powered (3 type C batteries not included)

AC power supply included

Low battery indicator on display screen

Automatic shut off

Compact and versatile design

Removable 9" x 7" stainless steel platter with recessed edge

Shipping weight 4.67 lbs.

Overall dimensions 9.25"W x 9.5"D x 3"H