Rechargeable Flameless Candles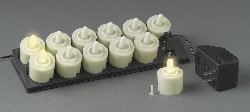 Click image(s) to enlarge.
Product ID:RECHARGEABLE CANDLES
RECHARGEABLE FLAMELESS CANDLES:

Fantastic for restaurants. It is safe! It is smart! It is real candlelight. It's electronic and it's rechargeable. No more fire hazard, heat, smoke, waste! Protect the enviroment! Available as single lights or 6 lights, 12 lights, 24 lights per charger. Available in 110 volt or 220 volt.

More Photos