Votive Candles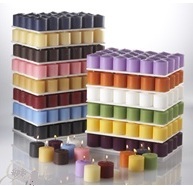 Click image(s) to enlarge.
Product ID:VOTIVE CANDLES
Votive Candles
Votive candles are very popular for many settings! Available in many colors, including classic white. Available scented or unscented. Available with or without glass votive holders.
Available Colors: White, Ivory, Black, Brown, Navy Blue, Yellow, Green, Orange, Red, Lavender, Light Blue, Pink, and Purple.